Push Ups With A Purpose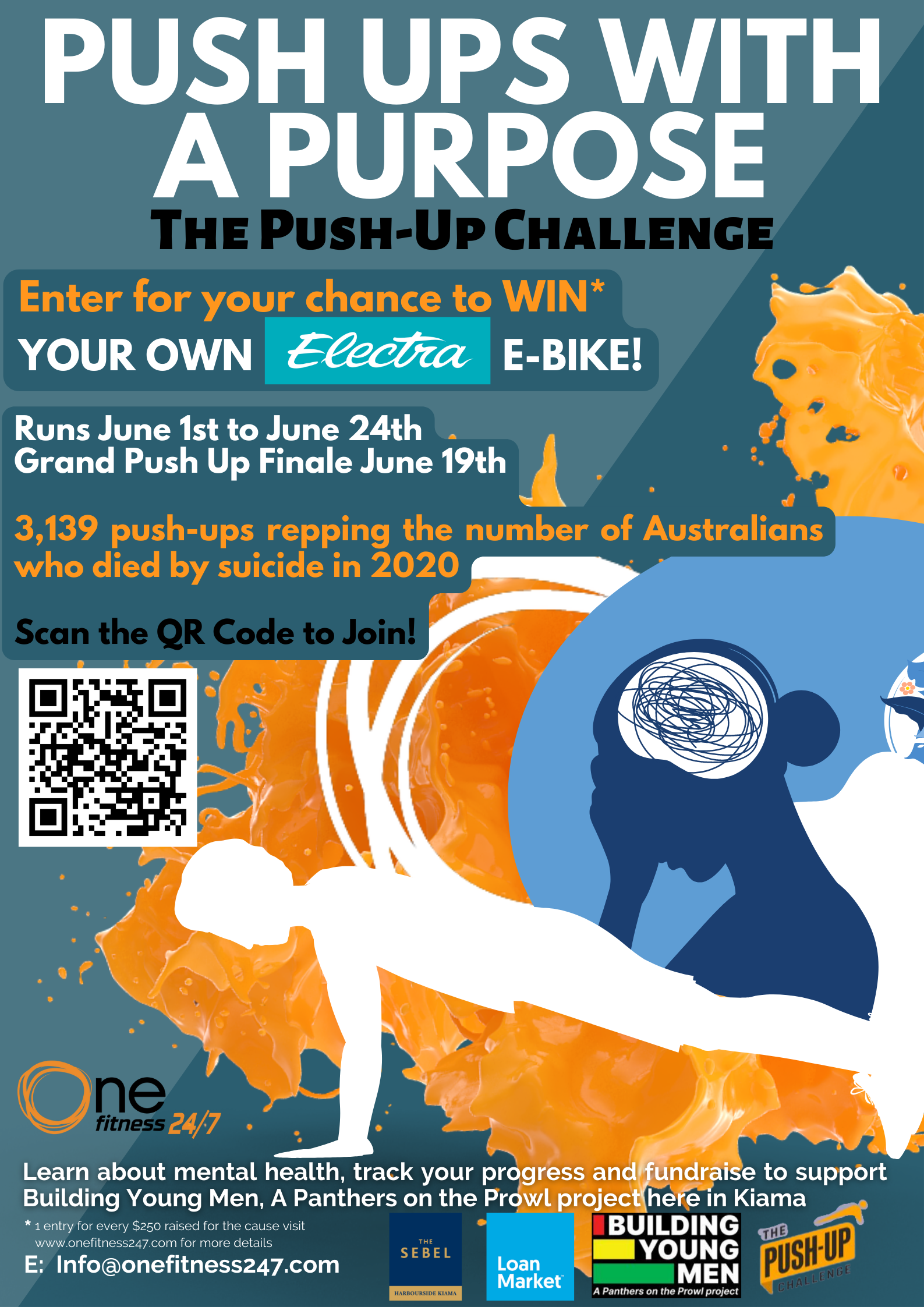 Join us as we push for better mental health this June.
The Push-Up Challenge will be kicking off on Wednesday 1st June.⁠ Our Goal is to raise $10,000 for the Local Building Young Men program, a Panthers on the Prowl Project set to run here in Kiama. ⁠
You can support the cause by signing up to participate and raise funds or supporting someone who is participating with a donation.
⁠
To Participate:
Join TEAM ONE Community to get fit, have fun, raise money for a good cause and learn about mental health.⁠
You can sign up to push up by clicking SIGN UP at the top of the page. Be sure to sign up at THE PUSH-UP CHALLENGE as well. Here you will get daily push up goals, keep track with what other participants are doing, and learn more about mental health through the app.
The commitment is to complete 3,139 push-ups across 24 days in June to represent the number of Australians who took their own lives in 2020 and shine a spotlight on mental health.⁠
As a participant, for every $250 you fundraise for Building Young Men you will receive 1 entry to win a ELECTRA E-Bike! Please direct your donars to the RallyUp Page HERE. Have them make the donation under your name, or include your name in the comment.
For every donation, that person will be entered into the raffle to win great prizes like Crooked River Fesitval tickets, 6 Month Gym Membership & A Golf Day for them and 9 Friends!
For your chance to win an Electra E-Bike, and support a great cause, you can get involved by following the steps below.
1. Sign up to push up by clicking SIGN UP at the top of the page.
2. Go to our Community page at The Push Up Challenge TEAM ONE to receive the push up daily goal updates and mental health education. You can join an existing team or create your own team of up to 10 people within our Community. ⁠
3. Spread the word and get others involved. ⁠
4. Gather sponsors and direct your donars to the RallyUp Page HERE. Make sure they include your full name in their donation.
5. Start prepping yourself⁠
6. 1st to 24th June: Get pushin'⁠
7. Sign up for a time slot to participate in The Grand Push Up Event
The Raffle prizes will be drawn on June 30th.
The E-Bike Winner Will be drawn on June 30th.
⁠
The Grand Push Up Event
On June 19th our community will attempt to complete 3,139 push ups in 3 hours at the Grand Push Up Event held at The Sebel Harbourside Kiama.
⁠
Loan Market is sponsoring the Grand Push Up Event with a great CASH PRIZE! $400 for the male and female with the most push ups (with correct form) completed on June 19th!
$10 Entry fee into the event with all proceeds going to Building Young Men.
⁠
Let's get pushin'⁠
About Building Young Men
Boys need a safe forum where they are able to discuss the choices they are faced with at critical junctures in their lives. Boys naturally look toward quality men to guide and assist them to become good men of the future. BYM is a unique group mentoring program designed to build the minds, hearts and spirits of our young men by providing opportunities to grow in understanding and acceptance of their masculinity and live out their roles and responsibilities as quality men in our Penrith community.
Help a new generation of KIAMA men!
Click here for more information about the program.